Artificial Grass for an Alternative Green Garden in Portugal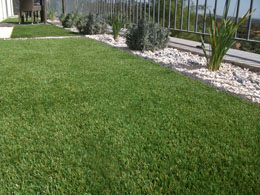 These days, a large proportion of my landscaping business involves taking out once prized lawns in favour of more cost effective solutions, which often involves artificial grass for those who just cant give up the look of an English-style garden.
Fortunately, new technology and a competitive market has created synthetic grasses that really do look like the real thing. Yes, the initial outlay may seem more expensive than the real thing, but when you consider that there simply are no on going maintenance or water costs - it's an option well worth considering. It is easy to install and never again will you have to replace a broken sprinkler, add fertilizer, chemical treatments, get the strimmer or mower out… the list is endless. Just don't be tempted to choose the cheaper options that have hit the market as they have minimal guarantees and quite simply, look pretty awful.